Two years ago, Baltic Cable AB became certified as a transmission system operator in Germany according to the provisions of the German energy act. This role introduced new requirements on Baltic Cable and enabled it to take part in shaping the European energy transition.
On 19 November 2019 Baltic Cable completed the certification process during which the German regulator Bundesnetzagentur reviewed relevant unbundling criteria in line with the ITO unbundling. During this process, it was successfully demonstrated that the operation of Baltic Cable as transmission infrastructure is undertaken fully independently from its owner, Statkraft.
Becoming a transmission system operator (TSO) introduced new requirements on Baltic Cable, such as taking on new operational tasks in-house and actively participating in the development of terms, conditions and methodologies required under TSO regulations and guidelines, as well as representation in various industry groups and bodies. To handle the increasing amount of responsibilities, Baltic Cable increased the number of employees by nearly 40%.
The following examples show important milestones on the journey of Baltic Cable since TSO certification: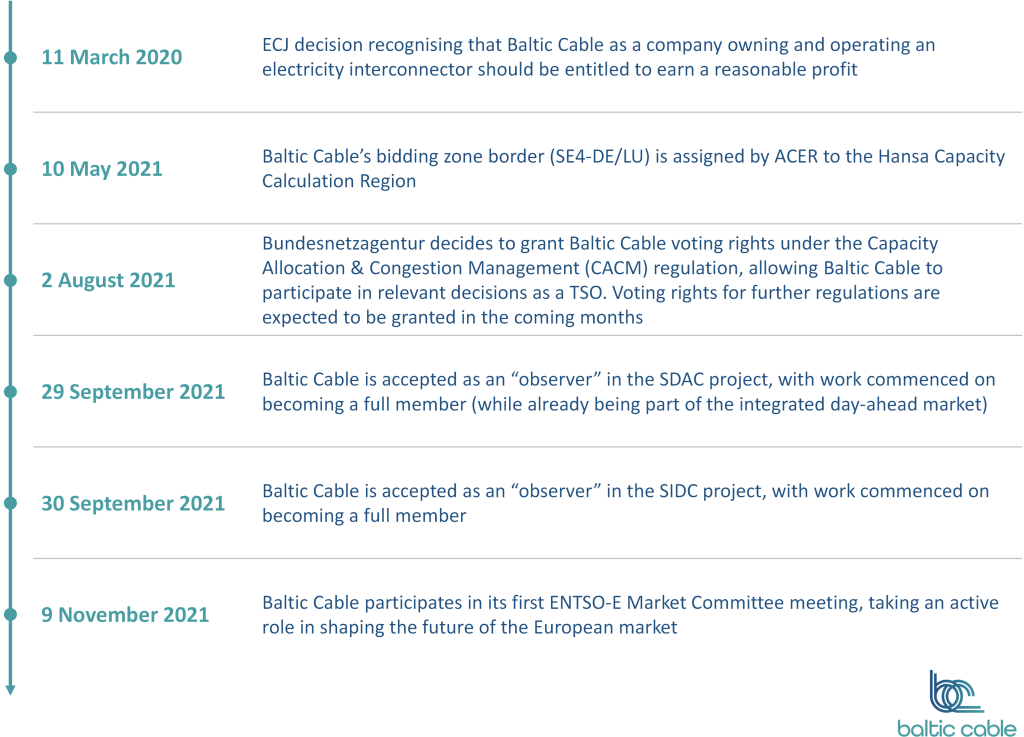 By becoming a TSO, Baltic Cable is now able to take part in shaping the European energy industry by contributing to the future design of the European market, with a focus on making the power system more efficient, secure and resilient, and thus able to reach the EU-wide climate and energy goals.
Amid current record-high power prices, Baltic Cable continues to contribute to increasing the socio-economic welfare in Europe by enabling the transfer of low-carbon power between Germany and Sweden, while also ensuring higher integration of renewable energy sources. At these times the importance of cross-border electricity interconnectors is higher than ever.
The European Commission stresses the importance of interconnectors in its latest toolbox developed to tackle rising energy prices. In its set of medium-term measures, it sees the value of interconnection of neighboring markets in fostering competition and ensuring the supply of electricity at the most competitive price. Therefore, the Commission will work with Member States on the necessary measures to achieve the 15% electricity interconnection target by 2030, in line with the European Council Conclusions of October 2014.
Baltic Cable is proud to be connecting Germany, the biggest European power market, with the Nordic power market since 1994. The 260 km long HVDC interconnector has undergone several technical upgrades to fulfil new requirements, improve its reliability and ensure its operation for years to come.